Team / Advisory Board
Rashida A.Bamgbola ; social Entrepreneur & innovator.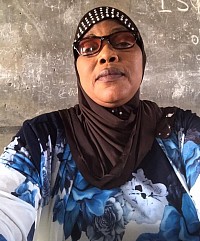 Bamgbose F. M ; a civil servant and Teacher at L A Basic school 1, Jabata Oyo, ERWAP project facilitator and enabler across Oyo Primary Schools
Oyekanmi Wasiu Kehinde
Civil servant and Teacher at Balogun high school, Oyo Oyo State. ERWAP program facilitator and enabler across Oyo State Schools
James Miller an experienced and articulate Business Executive with more than three decades of upper-level senior management experience; including more than two decades of business experience in Africa (Nigeria, more than eighteen years).
His extensive career has allowed him to develop a very diverse business background, including senior management experience in the following business sectors:
o  Manufacturing – Managing Director
o  Business Adaptation/Change/Project Management
o  Consulting to the Nigerian O&G/Power sectors
o  Information Technology Training/Education
o  Real Estate Development and Sales
o  Voice/Data Communications 
o  Computer Engineering - Unisys - USA/Worldwide
o  Information Technology Service and Support
o  Personnel Security Services
o  Distribution and Logistics
o  Voice/Data Communications
His education includes: B.Sc. Math; B.Sc. Computer Science; and MBA focused on Operations/Financial Management.
Salem M. Ayenan
Salem M. AYENAN is a young person involved in community life since 2013. Very passionate about issues of peace, justice and equality, he has attended several capacity building sessions as a civil society actor through workshops, conferences, seminars and others. Since 2018, he has specialized in environmental and climate activism. He has coordinated several volunteer projects and served as a volunteer in several structures locally, nationally, regionally and internationally. In 2022, he was selected by the Major Group of Children and Youth of the United Nations Environment Program (UNEP) to implement Local Youth Environment Assembly in the Africa region. This assembly brought together thousands of young environmental activists, groups of women and people with disabilities, journalists and students from Senghor University in Alexandria (Egypt) who actively participated in the consultations. Salem M. AYENAN is one of eight (08) young Africans chosen to be part of the UNESCO-Africa Focus Discussion Group to work on the UNESCO Greening Curriculum for Climate Education which will be officially launched at COP28. 
Salem Ayenan is ERWAP lead Environment communication facilitator & strategist in Benin Republic.

More about his work via Linkedin: https://www.linkedin.com/in/salemmayenan.
Facebook : https://web.facebook.com/salemmayenan