ERWAP - The leader in climate change education & adaptation in Nigeria
About us
Welcome to ERWAP Energy Initiative, a pioneering climate change education program and a branch of ERWAP Energy Biofuels, a leading renewable energy social enterprise. Our mission is to raise awareness about air pollution mortality and provide clean energy access to underserved regions in Africa, particularly Nigeria and the Republic of Benin.
As a climate change adaptation facilitator and NGO, we collaborate with policymakers, individuals, health workers, educators, students, and government officials to ensure that climate change education reaches everyone. Our goal is to empower individuals with the knowledge needed to combat the threats posed by air pollution, which has already claimed countless lives and will continue to do so if left unchecked.
At ERWAP Energy, we firmly believe that the fight against climate change must involve the "local population." To succeed, people must fully understand the urgency and magnitude of climate change. Thus, we strive to change behavioral patterns and harmful practices against the environment through an effective climate change education program. An informed society is a key ally in the battle against climate change, and this has been the driving force behind the inception of ERWAP Energy Initiative.
Our focus is on making everyone climate change literate, as this is the first significant step toward addressing the consequences of global warming. By 2030, we envision becoming the foremost organization in climate change education and adaptation at the grassroots level, driving positive change and empowering vulnerable communities.
The Beautiful Beginning of The Climate Change Battle
For Rashida A. Bamgbola also Known as Rashidat A. Bamgbose the dream to start ERWAP started in class while Rashida was studying for a masters degree in Energy Economics. Her studies at the University of Ibadan, Oyo state, Nigeria. 
A video documentary on air pollution mortality from cooking demonstrating the negative affect on African women and children shown by her then lecturer led to her thinking of a solution. From that ERWAP (Environment Resource Waste Against Pollution) was born. ERWAP was initially conceived as EWAP (Energize Women for Africa Project). Targeted at enabling bio-friendly energy access for African women and turning African waste resources to a renewable fuel for cooking and electrification .. solving air pollution crisis from cooking using the traditional cooking method while directly attacking the air pollution crisis from the burning of wastes. Her mentor and friend inspired her to make it ERWAP. Indeed she likes the idea of renaming to ERWAP, ERWAP Energy Initiative is an arm Of ERWAP Energy Biofuels and it's established to enable climate change education and adaptation in Africa. We believe that the climate change crisis cannot be reduced if the locals do not receive proper climate change education. 
The ERWAP Energy Initiative Program aims to enable climate change education and adaptation in Communities across Africa, starting from Oyo State, Nigeria.
OUR MISSION & VISION 
VISION
Our Vision: To be the leading organization in climate change education and adaptation at the grassroots level by 2030, driving positive change, raising awareness, and implementing effective solutions to combat climate change challenges.
MISSION
Our mission: Empowering communities with clean energy solutions, combating climate change, and reducing air pollution mortality. Join us in creating a sustainable, healthier future for all.

The Emergence of Mobile-Powered Awareness Campaigns for Air Pollution Control"
Three in ten people surveyed by ERWAP reported difficulty in stopping their neighbors from burning waste in open air in their communities, workplaces, and businesses. To address this issue, ERWAP initiated the "Mobile-Enabled Awareness Campaign Request" to empower individuals to address the problem of indiscriminate waste burning. Many are hesitant to confront their neighbors about this issue, hence the creation of the "Call to Schedule an Air Pollution Awareness Campaign."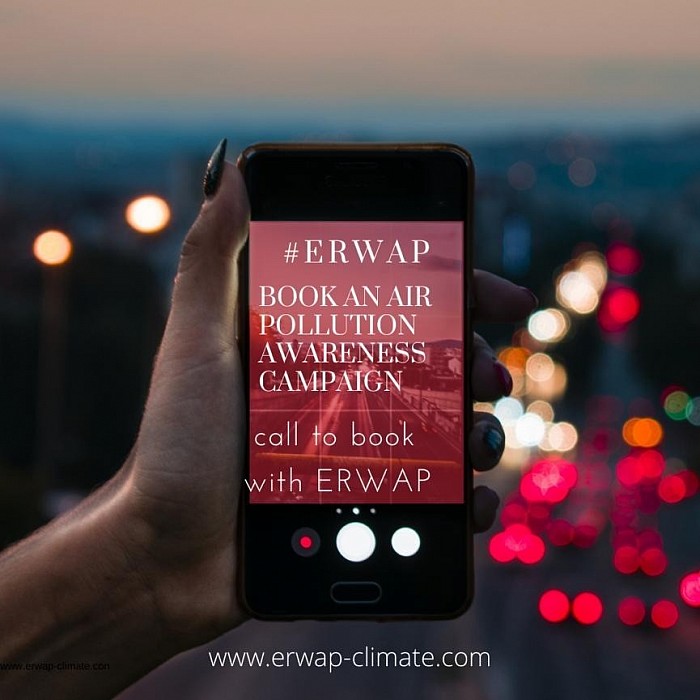 ERWAP POWER
🌟 Seize the Opportunity! Unlock Energy Independence with ERWAP Waste-to-Power Plants! 🔌
ERWAP waste-to-power plants come with an exclusive one-year warranty, ensuring your peace of mind.
Are you tired of being held captive by soaring fuel costs? Take charge of your energy expenses today! Discover the extraordinary advantages of ERWAP Waste-to-Power Plants and revolutionize your household's energy source.
💡 Visit www.eebioenergytech.com to delve deeper into our ground-breaking solutions.
Envision a world where you can effortlessly generate cooking gas and electricity from the waste materials right in your own home. With ERWAP's cutting-edge waste-to-power plants, you can transform plant residues, animal waste, and even the excreta from just three to ten chickens into a reliable and continuous energy supply.
💥 ERWAP Waste-to-Power: The Path to Unleashing Sustainable Energy Independence! 💥
Our state-of-the-art plants employ the same natural process that formed fossil fuels thousands of years ago. However, we've refined and elevated this process to offer you swift, seamless, and efficient waste-to-power technology. Bid farewell to exorbitant fuel expenses and embrace a brighter, greener future.
🌍 Join the ever-growing community of delighted customers who have harnessed the power of ERWAP Waste-to-Power Plants!
Are you ready to take the plunge? Don't miss out on this extraordinary opportunity to save money while significantly reducing your environmental impact. Contact ERWAP now to explore how our waste-to-power plants can revolutionize your household's energy requirements.
📞 Call ERWAP today at [09017636814] and embark on a journey towards unmatched energy independence!
For more details about our impactful social outreach initiatives and the remarkable transformations we're bringing to communities like yours, visit www.erwap-climate.com.
🔌 Act swiftly! Take the first step towards a cleaner, more sustainable future with ERWAP Waste-to-Power Plants.
Delay no more. Experience the convenience of cooking gas and an uninterrupted electricity supply, all powered by your very own household waste. Seize the moment and make the switch to ERWAP Waste-to-Power Plants today, reaping the remarkable benefits firsthand. Your energy independence awaits!